Email Article
Posted: November 24, 2021
Photos: Commanders of U.S. Transportation Command, Military Sealift Command tour USNS Benavidez
The Commander of U.S. Transportation Command, Gen. Jacqueline Van Ovost, was joined by the Commander of Military Sealift Command, Rear Adm. Michael Wettlaufer, for a tour of the large medium-speed roll-on/roll-off ship USNS Benavidez on November 9. This was Gen. Van Ovost's first visit to an MSC vessel since taking command of USTRANSCOM in mid-October. Professional greetings were in place as the admiral was rang on with six bells and the general was given eight bells. Both were officially made crew members of the USNS Benavidez with the presentation of ship's ball caps.
Captain Douglas Garee,
Master, USNS Benavidez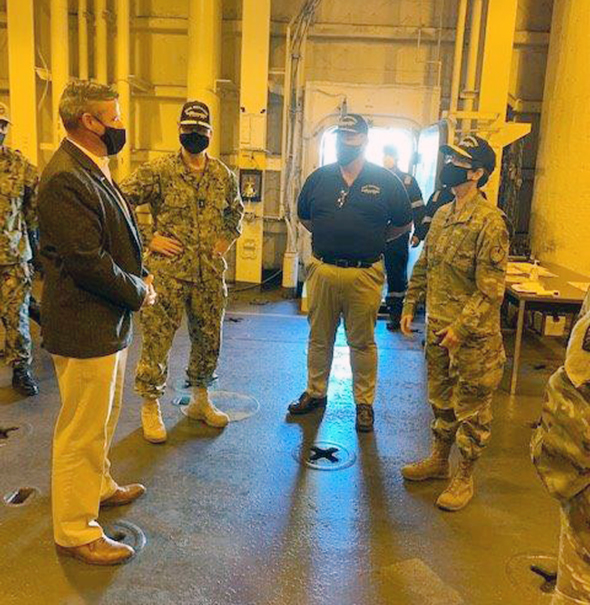 MSC PM5 Michael Lloyd, MSC Commander Rear Adm. Wettlaufer, and USTRANSCOM Commander Gen. Van Ovost are greeted by Captain Garee, master on the USNS Benavidez, as they board the ship.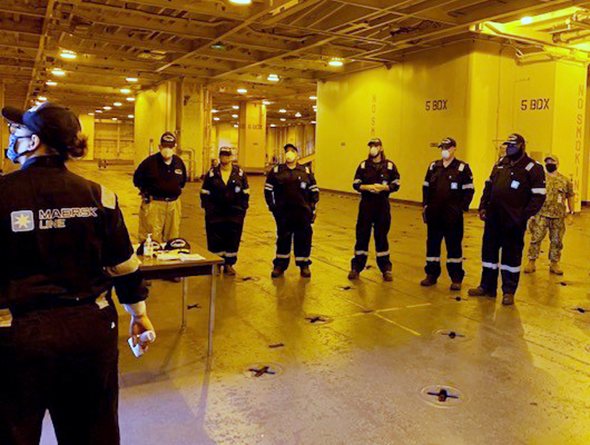 The crew of the USNS Benavidez stands by to greet distinguished visitors - at the gangway AB Karleen Grenier, who recently earned her third mate's license, and (left to right) Chief Mate Roger Madison, OS Lynne Hazelip, Bosun John Mendez, First Assistant Engineer Jacob Barritt, Third A.E. Keith Neathery and Chief Engineer Jo-Vanii Sprauve. The LMSR is operated for MSC by U.S. Marine Management, Inc. American Maritime Officers represents all licensed officers onboard the ship.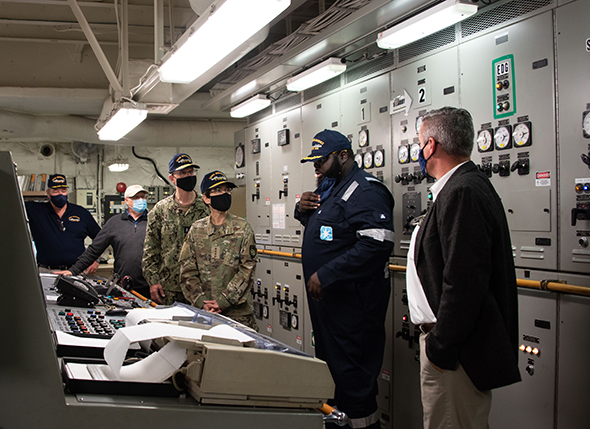 USNS Benavidez Chief Engineer Jo-Vanii Sprauve (second from right) discusses engine room operations with (from left) Captain Douglas Garee, USMMI Program Manager Robert Bullen, Rear Adm. Wettlaufer, Gen. Van Ovost, and MSC PM5 Michael Lloyd.