Email Article
Posted: November 14, 2018
MPSRON 3 ships supporting Super Typhoon Yutu relief efforts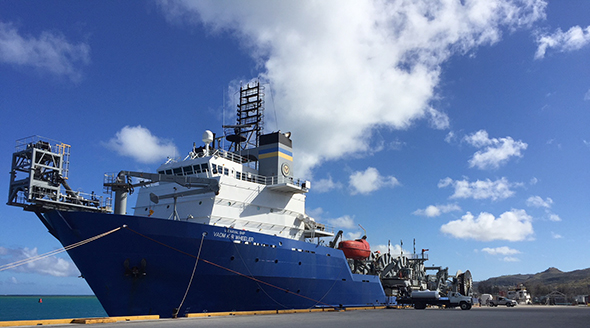 The
USNS VADM K.R. Wheeler
- operated by TOTE Services, Inc. - is among the U.S. military and Military Sealift Command vessels actively engaged in relief efforts following Super Typhoon Yutu, which tore through the Commonwealth of the Northern Mariana Islands in late October.
In conjunction with the
USNS Wheeler
(T-AG 5001), the crews of the
USNS John Glenn
(T-ESD 2),
USNS Soderman
(T-AKR 317),
USNS Dahl
(T-AKR 312),
USNS Pililaau
(T-AKR 304) and
M/V Captain David I. Lyon
(T-AK 5362) worked diligently at anchor. In total, 222,826 gallons of water and 86,160 pounds of ice were sent ashore due to their efforts, Lt.j.g. Brian Lasley reported in an article published November 9 by Military Newsfeed.
Yutu was the strongest typhoon to hit a U.S. territory and was the second-strongest system to hit U.S. soil in recorded history, according to the National Oceanic and Atmospheric Administration. The Category 5 super typhoon had sustained winds of 178 mph and devastated much of Tinian and Saipan.
"My squadron and I are honored to contribute to joint Task Force-West," said U.S. Navy Capt. Eric Lindfors, commodore, MPSRON 3 and Task Force-West forward deputy commander. "The level of devastation from Super Typhoon Yutu is hard to describe, even when you are here on the ground looking at it. The challenges we face logistically being located remotely in the Pacific further complicate the recovery effort."
Hundreds of service members from Joint Region Marianas and other units from within Indo-Pacific Command assigned to Task Force-West are providing Department of Defense support to the Commonwealth of the Northern Mariana Islands as part of the relief and recovery efforts, which began October 25 immediately following the storm's passage and which are supported by the Federal Emergency Management Agency.
The
USNS Wheeler
spent two days in Tinian and support vessel USNS Fast Tempo spent three days there. The vessels have been in Saipan since November 1 and 2, respectively. "Our main mission is to pump off non-potable fresh water for washing, laundry, hygiene - about 30,000 gallons per day," wrote Captain Glenn Macario, master on the
USNS Wheeler
. "We are also distributing about 1,000 to 2,000 gallons of potable drinking water and about 800 to 1,000 pounds of ice daily, as well. The other MSC ships here have been doing laundry, making ice, raising money, and whatever can be done to help."
The
USNS Wheeler
,
USNS John Glenn
,
USNS Pililaau
and
M/V Lyon
are manned in all licensed positions by American Maritime Officers and in all unlicensed positions by the Seafarers International Union.